CH GoldMartini Incredible Romance (AI)
Sire: BISS GCHB Am CH Int'l RBIS Dalane Rose Tree Whirlwind Romance RN CA CGC TKN DJ DS
Dam: Aust Ch Wysiwyg Incredible Story
Whelped: 12/08/2021
Clear eyes 2022, Clear Heart 2022, PRCD-PRA Clear, PRA 1 & 2 Clear, GRMD Clear, RDEB Clear, OI 3 Clear, Ichtyhosis Carrier, DM Clear, NCL Clear.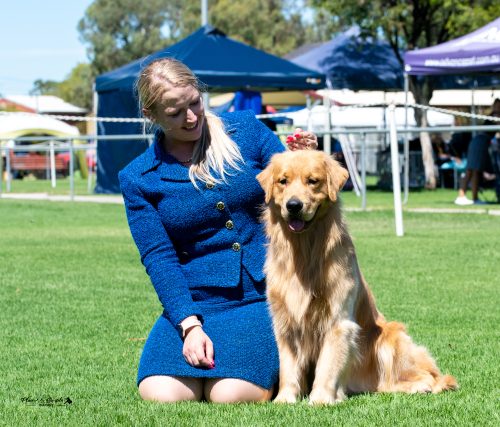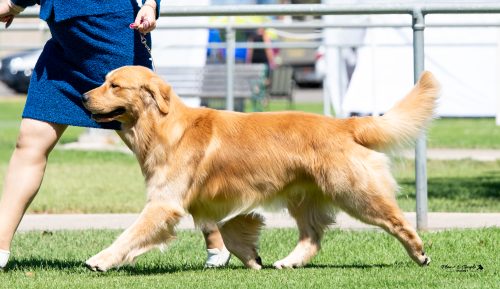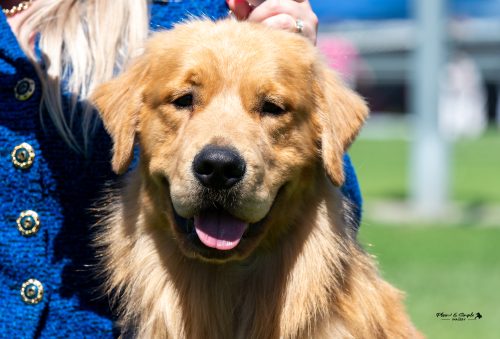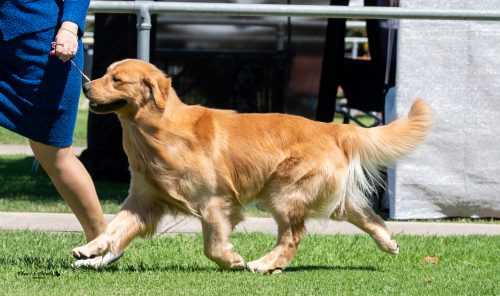 Bailey
Bailey is the son of the incredible Romeo (BISS GCHB Am CH Int'l RBIS Dalane Rose Tree Whirlwind Romance RN CA CGC TKN DJ DS) and Jane (Ch Wysiwyg Incredible Story)
Unfortunately due to a accident at a young age, out retrieving. Bailey hurt his shoulder quite extensively. Never knowing if Bailey was going to be able to compete or do any kind of sport we made the heartbreaking decision to place Bailey with our friend Sarah and her family in South Australia as a companion for her other GoldMartini Boy cooper and her kids.
Along came January we saw Bailey and wow didnt miss a beat in his movement and just flourished into the most gorgeous boy could only wish for. Very Greatful Sarah and family have aloud Bailey to head out to the showring. In 2 weekends along with his handler and our dearest friend Tabitha Thorp they have surpassed our expectation as he is over three quarters the way to his title. Bailey is still young and yet to mature so only the best will come.
On the brighter side this opened up other opportunities for Bailey, and us and we couldn't be happier for this young man.
Bailey lives a life of luxury in South Australia with Sarah and her beautiful family. We are lucky enough to have semen stored from this lovely fella in which we are sure he will produce some lovely offspring.
Pedigree of Bailey

Parents
GrandParents
GreatGrandParents
SIRE

BISS GCHB Am CH Int'l RBIS Dalane Rose Tree Whirlwind Romance RN CA CGC TKN DJ DS

BISS Am GCH Am/Can CH Yukon's Turn The Page Am/Can OS
BISS CH Bravo's Old Spice SDHF OS
Am. Can. CH Thornelea Yukon's Reba
CAN Ch. Dalane-Golden Hills Perchance To Dream OD
BIS,BISS Am GCHP Rush Hill's Drama'geddon RN JH WC OS SDHF RATO
GCH Dalane Pleasure Is My Business OD
DAM

Australian Champion Wysiwyg Incredible Story

Aust. Supreme Ch./Am./Can. Ch. Edgecombe's Wysiwyg Chaos Bound For Botany Bay
BIS BISS Am GCH Rush Hill Run'n Amuck at Abelard OA OAJ AXP AJP NFP WC VCX SDHF OS
GCH CH Edgecombe's Bay Brynne
Wysiwyg Kiwiana Vs Americana
Supreme Ch Mistymoor Man Of Mystery At Santamaria
Aust. Ch. Wysiwyg Everything U Dream Ov